I signed up before I even thought too much about what I was doing. I was so anxious to get in before the price went up. Excited that my oldest wanted to run his first 5k. Giggled over the idea of getting new running shoes (I love shopping) and all the swag from the race.
I couldn't pass up the 10th anniversary, right?
But I didn't want to stop lifting weights, either…lose muscle mass, blah, blah, blah. You know, because now I'm back in the swing of things. Obvs.
So, Nic and I chatted (he's super pro-weight lifting). He had just finished a six week circuit with weights dictated by how many reps you complete in a set period of time. So…then this happened…
It's been two years since my full marathon, so I'm basically starting from scratch.
My super-amazing, ultra-marathon, runner-friend Tanya, told me that she noticed a big difference from taking a recovery run the day after her long run. So, I'm going to try that.
And hope I don't die.
You, guys…I really might. Do I need to remind you of the temps 'round here?
Yes, yes…these are July temps and I won't start seriously training until August…but when have you ever seen August to be cooler? That's right. Because it's typically not cooler. Not around here. Even the lows are warm to run in.
And the sun. And the sweating. And the hotness.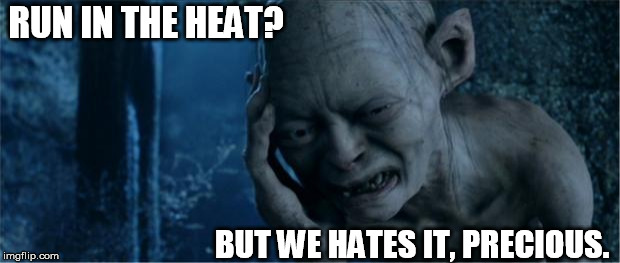 And now…
Oh no. I gotta buy shoes! I need new socks, too!
Where's my list of awesome running music?!
I have to run FIVE DAYS A WEEK?
What did I get myself into?!
I'm never going to be able to sustain this for twelve weeks!
And you know what? Maybe not, but tweaking programs and learning on a curve is ok.
Right? RIGHT?!
Wanna talk goals?
I have zero goals for time. ZERO.
Nope, I'm lying.
In my heart of hearts, I wanna break 2 hours. I've only done it once and it was a downhill course. I came thisclose to breaking it on my last Two Cities race, but that was a different course and almost three years ago. Maybe four? Anyway. This time, I signed up for the course that has a rugged hill at mile seven. Why is it so hard? You go down first and then have to trudge back up. Re: NO RECOVERY. It killed me the last time I ran this race trail and so maybe my goal is to kick that hill's butt.
But breaking two hours wouldn't be so bad, either.